OPEN FACE HELMET A500 MATT BLACK
Product Detail
Product Tags
• Prepreg fiberglass/ expoxy resin composite, high strength , light weight
• 5 shell and EPS liner sizes ensure a low profile look and perfect fitting
• Special EPS structure provide big enough room for ear/speaker pockets
• Integrated 5 snap pattern for aftermarket shields and visors
• Padded chin strap with D-ring closure and strap keeper
• Available in XS,S,M,L,2XL,3XL,4XL
• Bluetooth prepared
• Certification : ECE22.06/ DOT/ CCC  
The most important purpose of wearing helmets is to protect the safety of riders; The second important purpose is to ensure the comfort of the rider in the riding state, so as not to affect the riding; The third important goal is the beauty of the helmet, which can add a few points to your image. riders must not buy a helmet that is not suitable for their head shape because they like the appearance of a helmet that is not suitable for their head shape too much, or because there are only sizes that are not suitable for their own in a print. This is an act of abandoning the basics. There may be potential safety hazards, or a helmet that seriously affects the riding quality will never be a good helmet.
| | |
| --- | --- |
| SIZE | HEAD(cm) |
| XS | 53-54 |
| S | 55-56 |
| M | 57-58 |
| L | 59-60 |
| XL | 61-62 |
| 2XL | 63-64 |
| 3XL | 65-66 |
| 4XL | 67-68 |
 Sizing information is provided by the manufacturer and does not guarantee a perfect fit.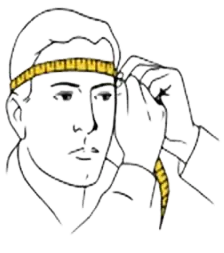 *H HEAD
Wrap a cloth measuring tape around your head just above your eyebrows and ears. Pull the tape comfortably snug, read the length, repeat for good measure and use the largest measurement.
---
---