OPEN FACE HELMET A500 GLOSSY BLACK
Product Detail
Product Tags
• Prepreg fiberglass/ expoxy resin composite, high strength , light weight
• 5 shell and EPS liner sizes ensure a low profile look and perfect fitting
• Special EPS structure provide big enough room for ear/speaker pockets
• Integrated 5 snap pattern for aftermarket shields and visors
• Padded chin strap with D-ring closure and strap keeper
• Available in XS,S,M,L,2XL,3XL,4XL
• Certification : ECE22.06/ DOT/ CCC
• Customized
When buying helmets, many novices like to buy helmets with larger sizes. They think that loose helmets that are not so tight will be more comfortable when riding for a long time. This approach is completely wrong. From the perspective of safety, loose helmets not only can not absorb the impact force transmitted to the riders head, but also may cause secondary collision and greater damage due to the gap between the helmet and the head; From the perspective of helmet design principle, there is no conflict between "whether the helmet is close" and "whether the helmet is comfortable". As long as the helmet fits your head, it can tightly wrap your head without putting too much pressure on any part of your head.
| | |
| --- | --- |
| SIZE | HEAD(cm) |
| XS | 53-54 |
| S | 55-56 |
| M | 57-58 |
| L | 59-60 |
| XL | 61-62 |
| 2XL | 63-64 |
| 3XL | 65-66 |
| 4XL | 67-68 |
 Sizing information is provided by the manufacturer and does not guarantee a perfect fit.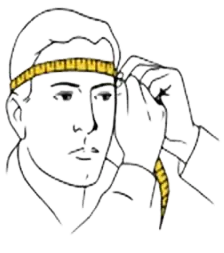 *H HEAD
Wrap a cloth measuring tape around your head just above your eyebrows and ears. Pull the tape comfortably snug, read the length, repeat for good measure and use the largest measurement.
---
Previous:
OFF ROAD HELMET A800 Retro
---