OPEN FACE HELMET A500 PEAR WHITE
Product Detail
Product Tags
• Prepreg fiberglass/ expoxy resin composite, high strength , light weight
• 5 shell and EPS liner sizes ensure a low profile look and perfect fitting
• Special EPS structure provide big enough room for ear/speaker pockets
• Integrated 5 snap pattern for aftermarket shields and visors
• Padded chin strap with D-ring closure and strap keeper
• Available in XS,S,M,L,2XL,3XL,4XL
• Bluetooth prepared
• Certification : ECE22.06/ DOT/ CCC  
Buying a helmet may be an overwhelming prospect, not just because the price ranges from cheap to rainy. You need to consider many variables, including helmet size, riding type, structure, dot certification, weight, wind noise, communication capability and other accessories, as well as the price you can afford to meet your wishes and expectations.
Don't be afraid, drive editor over the years, I have bought a lot of motorcycle helmets, suitable for all kinds of riding. I've been cycling since I was 17. Now I'm older. I have my own office. The walls of the office are decorated with all kinds of motorcycle helmets. Today, I'm going to teach my experience so that the next time you go for a ride, your brain will be safe.
| | |
| --- | --- |
| SIZE | HEAD(cm) |
| XS | 53-54 |
| S | 55-56 |
| M | 57-58 |
| L | 59-60 |
| XL | 61-62 |
| 2XL | 63-64 |
| 3XL | 65-66 |
| 4XL | 67-68 |
 Sizing information is provided by the manufacturer and does not guarantee a perfect fit.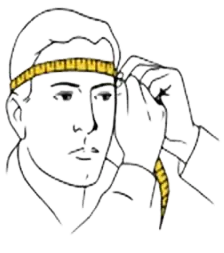 *H HEAD
Wrap a cloth measuring tape around your head just above your eyebrows and ears. Pull the tape comfortably snug, read the length, repeat for good measure and use the largest measurement.
---
Previous:
OPEN FACE HELMET A500 METALLIC BLUE
---